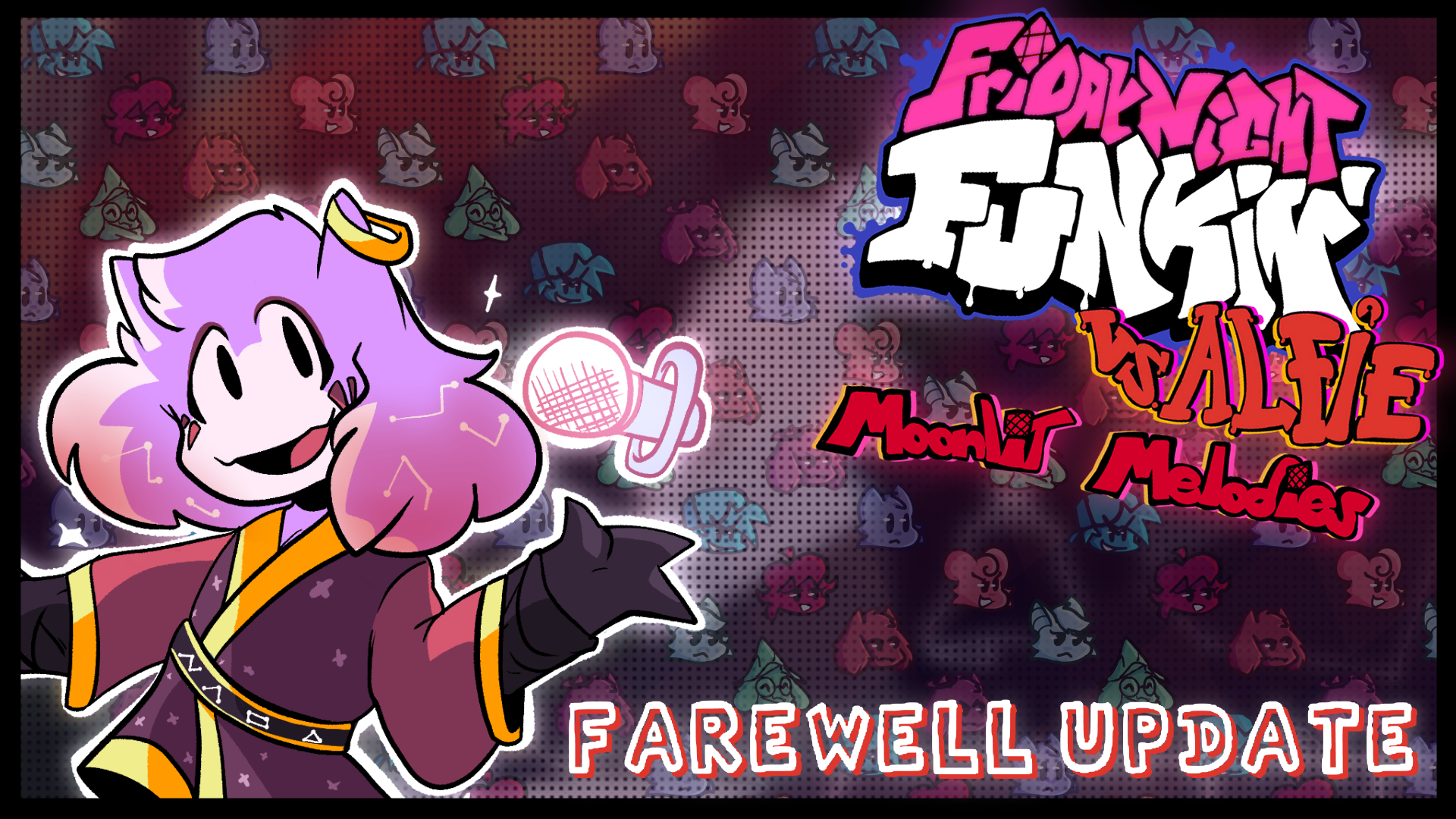 Vs. Alfie: Moonlit Melodies (+ 2 Bonus Songs)
A downloadable mod for Windows

Watch the trailer:
When walking home in a cold night, the Boyfriend and Girlfriend encounter a portal to a strange forest..
Vs. Alfie: Moonlit Melodies is a Friday Night Funkin' mod that includes 2 full weeks and an extra bonus week, multiple characters and stages, 10 songs in total, and a bunch of overhauled assets! The mod can be downloaded on Itch io, Gamebanana, and Gamejolt.
Plus, the art was completely remastered from the first version!
Gamebanana: https://gamebanana.com/mods/286306
Gamejolt: https://gamejolt.com/games/Alfiemode/649513


Alfie is a magical bard that lives by himself in the forest, who plays his songs for lost souls during the nights.
Alfie and the other original characters from this mod are all from an upcoming game, called Moonlit Mansion, you'll probably see more of them in the future!
This is a mod made by Mkv8 (art and coding) , MisterParakeet (coding), ThisIsBennyK (coding help) Sayge and PpavlikosS (Charting) and Aidan.XD/DEADMAC, Xeltxrx and Stardust Tunes (Music)!
It also contains a bonus song "Euthanasia Rollercoaster" from Everhood, all credits for that song go to Chris Nordgren and Jordi Roca.
There is also the bonus song "Vs. Ralsei", composed by DEADMAC, inspired by the tracks in DELTARUNE Chapter 1, by Toby Fox.
And a cover of the song Triple Trouble from the Sonic.EXE mod (with permission from one of the composers), that you can check out here.
https://gamebanana.com/mods/316022
Listen to the OST here:


You can check us out here:

Mkv8: https://twitter.com/Mkv8Art

MisterParakeet: https://professorparakeet.newgrounds.com/ and https://twitter.com/MisterParakeet
ThisIsBennyK: https://twitter.com/ThisIsBennyK

Sayge: https://twitter.com/Sayge4780 and https://sayge478.newgrounds.com/

Aidan.XD (DEADMAC): https://twitter.com/DEADMAC1 and https://puracorp.neocities.org/

PpavlikosS: https://www.youtube.com/channel/UCsx6-1eJGOUgg00nUTCDMGQ

Xeltxrx: https://twitter.com/xeltxrx and https://soundcloud.com/xeltxrx
Stardust Tunes: https://www.youtube.com/channel/UCtmcB2grbl5UW6pppdjX5Cg

Check out Everhood:

https://store.steampowered.com/app/1229380/Everhood/

Check out Deltarune:

https://store.steampowered.com/app/1671210/DELTARUNE/
Download
Install instructions
download the updated version! It's a little better